Take your CRM to new heights by creating amazing sales dashboards using CRM and data analytics.  Sales people are often short on time and patience.  They will stop using a CRM if meaningful data is not available at a glance.  When CRM dashboards fall short, data analytics can be used with your CRM to create a "wow" factor. By combining CRM and data analytics to create dashboards, sales people can view current performance against projected performance, historic trends, status against other sales people and so much more.
Empowering a Sales Team with Useful Data Analytics
For a CRM to be effective, users must come to rely on the application for information and analytics.  CRM dashboards, when used alone, can fall short when it comes to displaying data in the way that it needs to be seen.  Our clients regularly ask:
How do I motivate my sales people to use my CRM?
What supporting tools we can provide them?
How can I give my sales people the information that they need at a glance?
How do I provide sales people the bling to motivate them?
Having effective sales dashboards is key to drawing your sales team into the CRM.
When a recent Antero client needed a "wow" factor for its sales team, Antero developed dashboards using the CRM with data analytics.  Their CRM could not create a dashboard which combined KPI related data in such a way to show business at-a-glance.  Sales people stopped using the CRM regularly because value was not being provided.  Sales club data, KPIs, commissions earned and other motivating information could not be represented in an artful way by the CRM.
By combining your CRM and data analytics tools, you can create powerful sales dashboards with a bling factor. Data from multiple sources can be combined into a single dashboard.  Connecting sales to the data they need in one location is motivating.  And when sales people check in to their CRM often, they always know where they stand and where they need to go.
Display KPIs with Bling using CRM and Data Analytics Tools
Defining KPIs is the first step to providing useful analytics to your sales team.  Knowing what your organization needs and how to structure this into discrete and measurable value is challenging.  A company needs to drive KPIs from the top down, but successful KPIs are developed with consensus from your team. KPIs need to be discrete and measurable to help drive the organization toward common goals.
After KPIs are set, your sales team needs to be kept in the know through informative and attractive dashboards.  Sales people want to spend as little time as possible working in a CRM.  They want to go to one place to see what is important and not have to sift through multiple forms or screens.  Visualization is the key to success.
Determining the right blend of information to displayed on your sales dashboard is part art and part science. Too much information makes a dashboard hard to read.  Too little information makes a dashboard useless.  The below dashboard illustrates a one-stop shop for a sales person.  Dashboards specific to your company may be more targeted including measurements such as:
Year-to-date and current period revenue
Year-to-date and current gross profit or net income
Earned commissions
Average order size
Comparisons of how a sales person ranks next to his or her peers
Progress towards meeting sales clubs or sales levels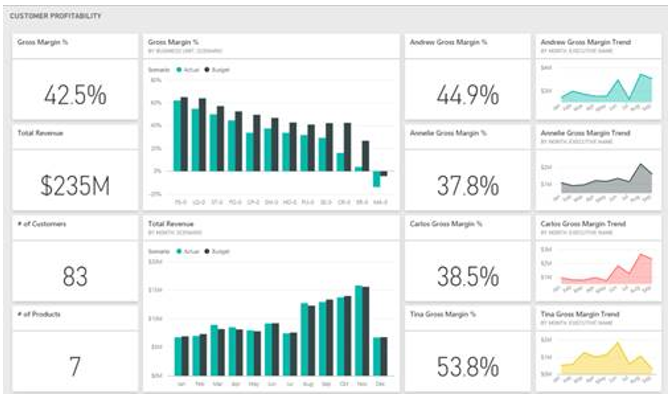 (Dashboard shown is from Microsoft's Power BI product.  Salesforce offer Wave Analytics and Einstein Analytics to compliment your Salesforce CRM.)
Imagine the Possibilities
Implementing data analytics within your CRM opens a host of new possibilities for analyzing and displaying data.  The top CRM products like Salesforce and Microsoft Dynamics 365 offer data analytics packages as add on licenses.  Just imagine if your sales team could:
View their actuals vs. target sales
Potential income for the month
Sales last month vs. this month
Year-over-year sales
Average net income by sale
The possibilities are infinite.
Antero CRM, Your Business Partner
Antero – The CRM Experts has successfully implemented data analytics on CRM systems across many industry sectors.  Implementing data analytics is a little bit of science, a little bit of statistics and a little bit of art.   Together as a team, we can build the exact solution to meet your business needs; a solution that will be used often and will provide value. Let us help you tackle data analytics to increase the value of your CRM.   Let us help you build an application that engages your sales team with a "wow" factor.
Need help with data analytics and CRM? Contact Antero at [email protected] or 720.414.9614